Join us and take care of your well-being and well-living in Paris !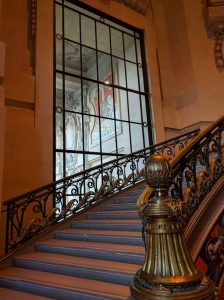 Happy new year for 2018 !
I propose to you a program of activities, intended to embellish your Parisian life and cheer up those who want to discover more about Paris, its heritage, its culture and it's gastronomy…
Sign up quickly, by email, and do not miss these activities rich in interesting discoveries.
Do you enjoy our activities? Do not hesitate to forward this program to your friends and acquaintances. You can also invite them to participate with you in an activity. You are sure to make them happy and have a good time together.
For all those who will register as a member of Bienvenue à  Paris you will be able to invite for an activity, at the member rate, a person of your choice.
Looking forward meeting you !
Annette
"I decided to be happy because it's good for health!" – Voltaire
Visits
Tuesday 23 January 2018
14:30 - 16:00
The amazing history of Monsieur Louis Pasteur – Paris 15

An exciting story not to be missed under any pretext!
After 30 years at the Ecole Normale, Louis Pasteur moved to an apartment thanks to the Institute in 1888 to spend the last seven years of his life there.
With its rooms, preserved in the state, this apartment consists of a rare testimony of the daily life of a couple, at the end of the 19th century. This apartment turned into a museum will introduce you to the different facets of Louis Pasteur whose incredible personality and stubbornness are matched only by the extent of his scientific discoveries!
You will become acquainted with a great deal of interest in all the research that this illustrious scientist, tireless worker, has carried out and which remains indispensable in our daily life.
You will discover at the end of the visit, in the basement of the building, the superb crypt of Byzantine inspiration where Louis Pasteur and his wife rest.
Participation: 25€ / member – 30€ / non-member
Visits
Saturday 10 February 2018
11:00 - 12:30
Private visit of Boris Vian's apartment workshop –  Paris 18
A fascinating testimony of  an artist's life in Paris in the 50s
Writer, poet, lyricist, singer, critic and jazz musician (trumpet player), this engineer from École Centrale was also a screenwriter, translator (Anglo-American), lecturer, actor and painter.
The owner of this historic site located above the Moulin Rouge agrees to open, exceptionally, the doors of her home which still houses the workshop of Boris Vian.
She will evoke with enthusiasm for us his life and his work.
Guess who was his next-door neighbor? Jacques Prévert …
For those of you who wish, we will then have lunch in one of his favorite neighborhood addresses, located at the corner of his street.
Participation: 25€ / member – 30€ / non-member
Visits
Monday 12 February 2018
10:15 - 11:45
Private visit of the Conciergerie – Paris 1

A very rich page of the  French history  !
This medieval building, which houses the Palais de Justice for Paris, is the oldest royal palace in Paris.
It was the residence and seat of power of the kings of France for centuries in the Middle Ages, before being transformed into a prison in the fifteenth century.
We will discover the Grand Préau where banquets took place in the Middle Ages, the Guards Hall with its vaults of Gothic style, and the recently renovated kitchens.
We will then visit the various cells of the prison, including Marie Antoinette's one, with the washroom where the convicts were stripped of their belongings before being executed.
Participation: 25€ / member – 30€ / non-member