< Back to the activities calendar
Visits
Saturday 7 October 2017
10:00 - 11:30
Love, politics, sensuality and dream decorations – Paris 8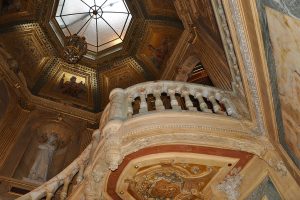 The Hotel de la Paiva is one of these elegant mansions that line the prestigious avenue des Champs Elysées.
The best artists of the mid 19th century built and decorated it for the daughter of a humble Polish Jewish tailor.
Esther Lachmann became one of the most prominent courtesans of Paris after marrying the wealthy Prussian Count Guido Henckel Von Donnersmarck. However, her dazzling social ambitions were no longer compatible with a commoner's name! Esther therefore chose a new identity with hints of nobility… thus appeared La Paiva!
Her parties were famous and attracted the Parisian smart set. La Paiva entertained countless personalities of the Second Empire, politicians, artists, writers and entrepreneurs.
Among those were the Goncourt brothers, the writer Théophile Gauthier or Léon Gambetta who was Prime Minister from 1881 to 1882.
Participation: 25€ / member – 30€ / non-member