The Stern private garden in St-Cloud 92
< Back to the activities calendar
Visits
Thursday 7 June 2018
14:30 - 16:00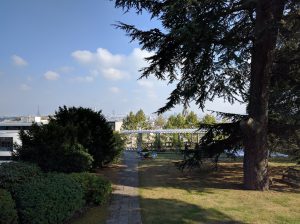 A remarkable private garden
Directed in 1927 by JC Nicolas Forestier, curator at the time parks and walks of the city of Paris, who redeveloped, after having bought, the park Bagatelle by creating a rose garden which he will be inspired for this garden !
The daughter of the sponsor of this beautiful garden, Alice Stern, was disabled. To allow her to circulate in a wheelchair, Forestier will completely remodel the sloping garden on the hill of Saint-Cloud in a horizontal and suspended garden with a rose garden gained on the void while enjoying the magnificent view of Paris.
Most of the elements designed by Forestier remain: terrace, pavement, pergola, boxwood garden, kitchen garden as well as the relationship between the landscape, the cones of vision and the view of Paris.
Listed as an historic monument in 2006, it remains the only Forestier's private creation still visible in the Paris region in which we wander with pleasure in the company of its charming owner.
We will share together a snack in the garden after the visit !
Participation: 25€ / member – 30€ / non-member