Pierre Cardin : a French couturier always at the forefront- Paris 4
< Back to the activities calendar
Visits
Saturday 3 February 2018
11:00 - 12:30
Let's explore the universe and the creative sense of Pierre Cardin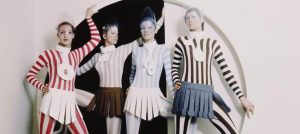 Under the guidance of his ever-present assistant (who joined at the age of 14 la Maison Pierre Cardin), we will be able to admire the most emblematic models of the creative genius of this artist who did not make the unanimity with his peers but made the joy of her clients who appreciated her modernity, her sense of abstraction and her geometric lines.
The actress and model Marisa Berenson describes him as a man "enigmatic and fascinating", "which has neither boundaries nor limits", and "for whom the present is the future" … "A visionary". This last characteristic being the most used to evoke its universe and its creative sense that it is in the fashion, the perfumery while passing by the jewels and the furniture.
For his part, John Galliano evokes "The creativity of Pierre Cardin who left forever a footprint on the culture of fashion by its visionary nature as its mastery of cutting and its contribution to the design of new volumes".
A page in the history of French fashion to explore without moderation …
Participation: 25€ / member – 30€ / non-member