Private visit of the Le Corbusier apartement – workshop – Paris 16
< Back to the activities calendar
Visits
Monday 1 October 2018
16:00 - 17:30
An amazing place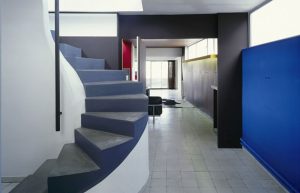 Located  on the top two floors of the Molitor building, it was designed and built between 1931 and 1934 by Le Corbusier and Pierre Jeanneret.
Due to its East-west orientation and its exceptional surroundings, it fits what Le Corbusier termed "the conditions of the radiant city".
As a project for a rental building, it offered the architect the opportunity to test the validity of his urban proposals. Given that no structures were placed opposite, he could raise facades entirely filled with windows, thereby constructing the first residential apartment made of glass in architectural history. Bathed in light, Le Corbusier's personal apartment spans the length of the last floor and, furthermore, houses his painting studio. The architect would inhabit this apartment-terrace from 1934 until his death in 1965.
The site has been registered as a UNESCO world heritage site since July 2016.
An exclusive visit not to miss !
Participation: 25€ / member – 30€ / non-member