Visit exclusive of the Florence de Ponthaud- Neyrat sculpture workshop – Paris 7
< Back to the activities calendar
Visits
Friday 24 March 2017
14:00 - 16:00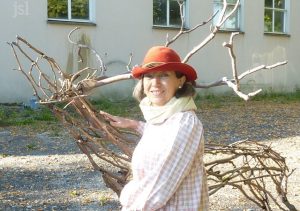 After an academic career at the Beaux-Arts in Paris, a disciple of CÉSAR, ETIENNE-MARTIN, CARDOT and a passage in the studio of Nino BRUSCHI in Carrara, Florence de Ponthaud-Neyrat discovers the powerful art of Germaine RICHIER, her relentless quest for the balance, the strength of the carved void.
However, after meeting Robert COUTURIER, his spiritual father, the artist will change in size and material, opening a new path to his creation.
Florence de Ponthaud collects branches, bark and leaves gleaned from nature and transforms his "treasure" into a bronze bestiary, realistic, authentic and magnificent by a personal poetry.
In her workshop, exclusively focused on her creation, she twists, curves, prints the movement with wire and aluminum wire, structure and balance her studies. Feverish in the foundry, nourished by "her" artists, Florence splits, chisels his burnt woods, assembles her "treasure", chooses such a rounded branch to form a gluteus muscle, such acorn to sculpt an eye, welds space … Weighing game, weights and counterweights. Florence plays with the shadow and the light, the voids and the full ones, the transparencies, intertwines its stranded nature until obtaining unique pieces of bronze. The metamorphosis of a nature in search of eternity.
Florence has accepted to open to us as  his studio, a real cabinet of curiosities, to tell us her work and her various sources of inspiration
Participation: 25€ / member – 30€ / non-member