Visit of Maison La Roche – Paris 75016
< Back to the activities calendar
Visits
Friday 12 January 2018
11:00 - 12:30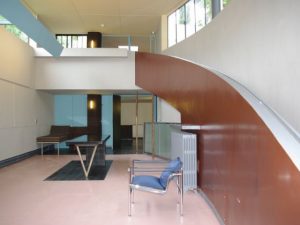 Built between 1923 et 1925 By Le Corbusier and Pierre Jeanneret, la Maison La Roche is a very peculiar architectural project in order to gather a gallery of paintings and apartments for its owner and collector: Raoul La Roche at the bottom of a dead end in the 16th arrondissement, an underdeveloped neighborhood then.
The use of new building materials such as reinforced concrete allows Le Corbusier to implement what he will name in 1927, the "Five Points of a New Architecture" such as : free facade, free plan, long windows, roof garden, and piles.
La Roche House represents an emblematic testimony of the Modern Movement, preceding that of Villa Savoye (1928) in Poissy.
From 1925 to 1933 many architects, writers, artists, and collectors come to visit this experimental house, leaving a trace of their passage by signing the guestbook in the hall. La Maison La Roche and the adjoining Jeanneret House were classified as Historic Monuments in 1996. They were the subject of several restoration campaigns from 1970.
Participation: 25€ / member – 30€ / non-member