Wine tasting (class + dinner) about Corsica wines – Paris 16
< Back to the activities calendar
Wine tasting
Wednesday 10 October 2018
20:00 - 23:00
Wines from the Ile de Beauté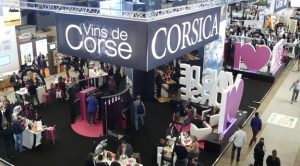 In order to stay a few hours more on holidays,  Géraldine invites us to go to Corsica and discover
the famous Anima Corsa
…
The Corsican soul we can find as well in its cultural traditions, its music, its cuisine and of course its wine.
Unique wines because their grape varieties are indigenous.
Located between sea and mountain, the terroirs are exceptional and give great finesse to wines despite a very hot climate.
By tasting some of the wines selected by Géraldine from the best Corsican producers, we will discover that Corsican wines (red, white and rosé) have character and perfectly pair with delicious homemade dishes that will be served!
So, let's have a glass and share it together !!!
Participation: 55€ / member – 65€ / non-member