Pastry workshop : Le Fraisier et sa génoise – Paris 16
< Back to the activities calendar
Cooking
Tuesday 20 June 2017
16:30 - 18:30
Une recette traditionnelle française  : le FRAISIER à base de génoise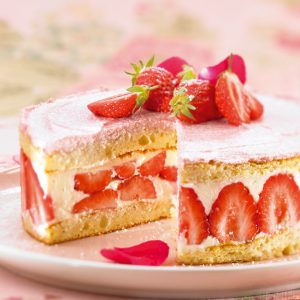 The arrival of the strawberries in the Parisian markets announces the nice days. When they are ripe and well chosen, their flavor is fragrant and sweet and they are very appreciated by the young and old people.
There are many varieties, the most appreciated being the Gariguette, the Mara of the woods or the ciflorette.
His virtues? Its high content of vitamin C and its antioxidant power.
A pastry workshop is proposed by Laurence, our cook, to learn how to make a traditional French recipe: FRAISIER based on a sponge cake.
This convivial workshop will be followed by a cocktail during which we will taste our Strawberries with other members and friends of Welcome to Paris come to join us.
Participation: 20€ / member – 25€ / non-member